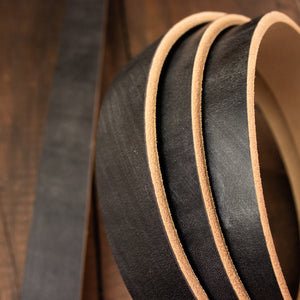 Oak Bark Bridle Strap - Black
Regular price
$36.40
$36.40
Unit price
per
Length: 55-60"
Thickness: 5-5.5mm average
Average thickness is 5 to 5.5mm. Some straps may be thicker, some straps may be closer to that 5mm. Some straps could vary as much as 6.3mm down to 4.5mm within a single strap. We do not have any control over the thickness and cannot take any requests for specific thicknesses.
We cannot guarantee the shade or tone of each color. This is a hand stained product by master curriers in England. The color from each hide, and maybe even each strap, will vary from one piece to the next. Due to the color changes seen from one monitor to another, or from one device to the next, the color on the hide or strap received could vary from what is being shown in this listing.
Shipping:
If international shipping seems excessively high please contact us for an address specific shipping quote. Send us your name, address, phone number and what you want to order and we will send an invoice with the updated shipping costs. We offer discounted international shipping costs for orders of 6 straps or more but you must message us to get the pricing. 
---